So
,
I am not happy with my weight
. AT ALL! I've been a comfy, lazy bum. I eat what I want, (drink!!), I lay around and somehow only manage to really hit the gym once or twice a month. yes, A MONTH! Usually I'll get Pedro out for a long run about once a week.
This has all got to change. I said to myself when everything started with Eric's restriction, that I'd start going every day... but it hasn't happened! UGH! But now that I've started going to Al-anon and trying to be sound of mind AND body... I gotta start doing something about this. I hit the gym on tuesday, got up early and took Pedro for a run on wednesday... I think my problem is I stay up SOO late (which I know is not healthy) but I just love being a night owl and just staying up doing absolutely nothing. Seriously, I look at the clock and it's 2AM and I have no idea what I just did for the last few hours. It's infuriating!
So to help me slim down and knock me out of this rut... I am trying... THE SPECIAL K CHALLENGE! :) What it is is just eating and drinking a mix of their products, which I actually REALLY REALLY enjoy.
Here are a few of my favorites.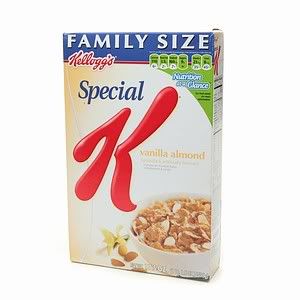 Vanilla Almond Crunch cereal, yummm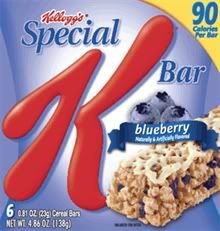 Blueberry and Chocolate 90 calorie bars!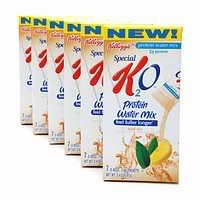 Iced Tea protein water packets, they help curb your hunger ;)
I have always been a big fan of the cereal, and just this week tried the bars and the water. So, the deal is, you eat a bowl of cereal in the morning, a bar for lunch and a regular meal for your dinner. I did this the last few days and it wasn't even hard! And I looove to eat. I love fried food, chicken wings, burgers, cheese, chocolate, ice cream, you name it, I love it! But ALSO, I do like healthy foods. Salmon, grilled chicken, tuna, veggies, salads. I'm not that picky, I get down with it all. Another upside of this is my work is only 2 blocks off of a Bristol Farms which has a salad bar and ooodles and ooodles of yummy, healthy food options. And I just realized, a small salad will only cost me $4!
I need to get into the gym 4-5 times a week. This includes running, hiking, cardio, lifting, yoga, pilates, arms, legs... etc! Last year I had a goal of getting Evangeline Lilly toned arms and I was really good there for a while. I just think having a boyfriend and working so far from where I live has sucked all the energy out of me and given me a good excuse to be lazy.
HELP! What are your health tips?? :)