I love reading books. I have a sister who is three years younger than me, and we always shared books growing up. Authors like Alice Seabold, Nicholas Sparks, Jodi Picoult and Emily Giffin. Books like Go Ask Alice, Smack and The Tribes of Palos Verdes that were passed between my schoolgirl friends that warned of drug use and disfunction and made me feel normal. This was years before the Twilight series when I used to stay up late and read under my covers and read my books.

These books were part of my adolescence and every time they announce that the script has been developed and they're putting faces to names and characters I've loved for so long, it's a sacred thing.

The Notebook. ahh... The Notebook was amazing and beautiful and powerful. I. Still. Cry.
every, time, I, see, it
. It's so cheesy but I do think Nicholas Sparks captured the spirit of love in his novel and Rachel McAdams and Ryan Goseling did it complete justice. And that's only of of Nicholas Sparks's masterpieces. I don't know how he does it, but he writes so well I think it's just easy to transfer it over.

Then there were the failures. Memoirs of a Geisha was pretty bad. The book is amazing but the film failed me. When I read My Sister's Keeper it tore me apart. When I read it, I could not put it down. I read it in a day or two straight. The book is heartwrenching and beautiful. I could not wait to see it in film, but when I did, I was completely and utterly disappointed. It is not okay to come in and completely change my book! It was even more of an insult because I really do think Cameron Diaz and Abigail Bresnan are amazing. There was just nothing that could be done to salvage the butcher job.

I've also caught a few books-to-Lifetime-TV-movie that have also left me sorely disappointed. Oh well.


The Lovely Bones.

When I heard this book was being made into a movie, I freaked out. When I SAW the preview, I was stunned. I cried. I was soooo excited!! I think Peter Jackson did a brilliant job with the cinematography. The music is haunting, the imagery is stunning. I mean, whether or not you believe in the afterlife and heaven and hell, the idea of the Inbetween is captured perfectly.

I also luckily live in the tri-state area and got to catch an advanced screening. Usually the placement of a familiar face is distracting, but Mark Wahlberg played the part of a grieving, lost father perfectly. And my boyfriend didn't even recognize Susan Sarandon. But I loved how she swept in and took over.

Susie, she was so sweet and beautiful. I felt so connected to her. The sense of longing between her and Ray, even after her death was so innocent and tragic. Every actor was well cast. Every role was well played. I was sooo relieved at the completed piece. Right on the heels of the My Sister's Keeper disaster, I couldn't take another disappointment.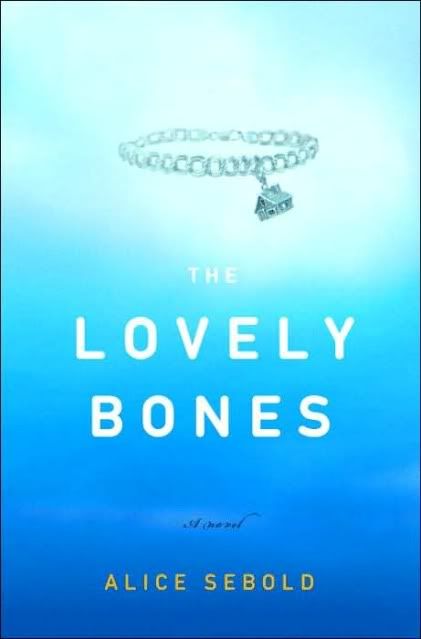 This is a film I highly recommend. It's a beautiful piece of art. It's a really sad story but it's inspiring at the same time.